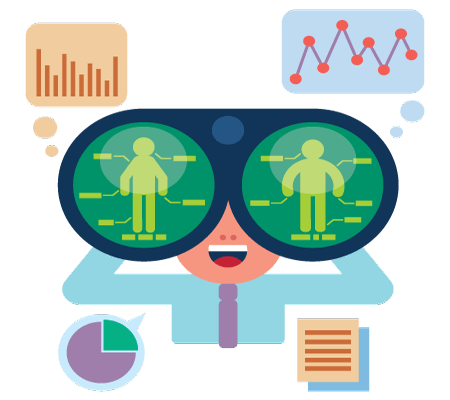 FREE COMPETITOR ANALYSIS
Competitor analysis uncovers the online strategies and marketing efforts that your competition is utilizing to bring in new clients and generate new leads. If they have a significantly stronger presence online, they are likely generating a much larger return on the cash spent building their website. This free service will reveal the details about what is working for them so that you can essentially build on their success, as well as improve upon it even further for maximum impact. More specifically, we will investigate their Google keyword rankings, their success on social platforms, monthly traffic volume, their site authority and divulge their online marketing strategies.
THIS COMPREHENSIVE COMPETITION REPORT EXPOSES:

Google Footprint
People use Google on a daily basis, looking for services they need or products they are interested in buying. If you have wondered what search phrases are bringing clients to your competitors (instead of you), answers will be provided by analyzing their site and revealing their profitable rankings.

Social Footprint
Social media is not only used for catching up with friends and watching all the latest cat videos. It gives your business a unique opportunity to maintain relationships with existing clients and build brand awareness and new leads. Our team will check if your competitors are taking advantage.

Monthly Traffic
Having a website is the first step to online success. However, if it doesn't receive any new visitors on a regular basis, the money you invested would be completely wasted. Keeping this in mind, do your competitors have a healthy traffic flow? We will spend some time researching and let you know.

Content Strategies
One of the most effective online marketing strategies is creating website content that is focused around specific online searches. Provided it is high quality, this can result in free traffic from Google. We'll investigate if your competitors are following an effective content marketing plan and let you know.

Advertising Goals
Paid advertising offers a great opportunity to generate new clicks and impressions to your website, especially if your site doesn't have much content ranking in Google. This marketing strategy can skyrocket business brand awareness and leads, so we'll check if your competitors are running any ads.

Website Authority
Websites with a solid backlink profile, a lot of quality content and good social metrics are rewarded with a boost to their search visibility. Since this has a positive effect on their Google rankings, we'll investigate the site authority of your competition for you to see what your business is up against.
HOW WE PERFORM AN ONLINE COMPETITOR ANALYSIS:

Your competitor request is received
– After you have completed the form at the bottom of this page, these details arrive in our team inbox and is picked up by one of our experts within 24 hours. An important thing to note is that although we do use a number of online tools to provide a report, it doesn't go through an automatic, machine based system. Each request is manually reviewed and this gives us the opportunity to provide actionable insight that is tailored to your needs, instead of just spitting out a generic assessment. As previously mentioned, from the moment you submit your information, we aim to have someone assigned to your request and ready to start doing the competitor research as soon as possible.

Your online competition is analyzed
– In order to properly understand the differences between your online footprint and that of your competitors, the expert assigned to your request will first take a moment to review your website. This helps us make specific recommendations in the report. After that has been done, each competitor in your list will be investigated, to expose winning strategies and online marketing efforts. As noted in the report overview above, we will look at their Google and social visibility, their website traffic and authority, as well as any effective content or paid advertising campaigns that are attracting new visitors and generating profitable leads. This research will be used to build your free report in step #3.

Competitor report is compiled and sent
– Once the research is complete and the expert has all the necessary information that is needed to fully understand your online competitors, a PDF report will be created that highlights key online activities that are proving effective for them. Additionally, we will make recommendations on how you can build on their success and reap the same benefits, or even exceed them. Even if we discover that your competitors are not maximizing the potential of their online presence, this knowledge would still be very useful, as it would present an opportunity to completely dominate, due to the lack of online competition. This report will be delivered to your email inbox within 48 hours of your request.
Thank you! We will get back to you shortly
Your Business Information
This entire process will only take a couple minutes and will stay fully confidential.
You need to select an item to continue
YOUR CONTACT INFORMATION
We need this information to deliver your report to the correct person.
Summary
| Discount : | |
| --- | --- |
| Total : | |