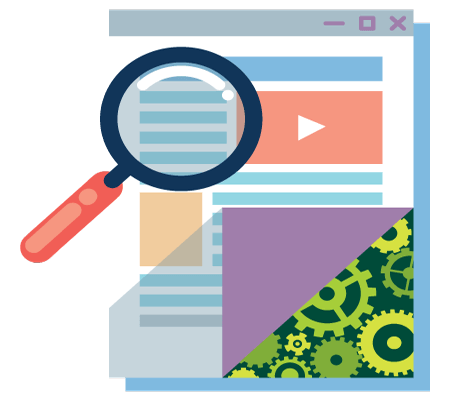 FREE WEBSITE SEO AUDIT
A search engine optimization audit identifies critical issues with your website that can negatively affect its performance in search engines. When your potential clients search for products or services that you offer, having a healthy website can dramatically improve its visibility and increase the likelihood of appearing above your competitors on the results page. After your site has been evaluated, we will provide actionable steps to address problems that are most impactful. This SEO report is completely free and without obligation, but if the fixes are a little too technical or you simply don't have the time, we can resolve them for you quickly and affordably within 48 hours.
THIS SEARCH ENGINE OPTIMIZATION AUDIT WILL REVEAL:

Mobile Rendering
It is critical that your site renders correctly when viewed on different mobile devices, such as phones and tablets. If your visitors find it difficult to navigate or read content, they are likely to leave. Google also gives priority to responsive websites in search results so this can even improve rankings.

Website Speed
The longer your website takes to load, the less likely new visitors will wait around for the page to display in their browser. That means that having a fast site can directly affect it's ability to generate new leads. If that is not enough motivation, Google has also stated that speed is a ranking factor.

Organic Rankings
Although paid advertising has the ability to bring a decent amount of potential clients to your website, if you rank well in Google, you can generate new visitors for free. Do you want to know how many hits your site gets monthly, as well as the keywords that bring in traffic? Our team will show you.

Backlink Overview
External backlinks have the ability to boost overall site authority and individual pages. Local citations are especially important for good performance in local rankings. Your site will be checked for missing listings, as well as for any backlink over-optimization, that can actually damage your potential.

Social Analysis
Social media provides a fantastic way to connect with your existing clients, as well as an opportunity find new leads. It helps build brand awareness by reaching new people and positions your business as a leader in your industry. This SEO report will include your current social footprint.

Content and Code
One of the most important parts of a good SEO audit is a thorough content and code review. We will test your site for duplicate content, broken links, thin pages, keyword stuffing, incorrect markup, indexing issues, blocked content, internal links or anything that impacts its overall online potential.
HOW WE PERFORM A WORLD-CLASS WEBSITE SEO AUDIT:

Your SEO audit request is received
– In order to perform the SEO audit, we will need some information from you, such as website address, contact details and a few other things. Remember, this is not just a generic website audit that some online providers offer. We understand that each site is unique, with different priorities for optimization, so rest assured that your request will not just be processed through an automated system. Instead, individualized attention is given, which allows our experts to highlight specific issues that will have the largest positive impact. Once you have submitted your information by completing the short form at the end of this page, it will be assigned to our SEO team within 24 hours.

Your website is assessed by an expert
– This is where the real work (which we love) starts. One of our SEO experts will use a combination of enterprise tools, scripts and years of industry experience to analyze your website and make personalized recommendations. As mentioned in the section above, this involves checking responsiveness, load times, content, code, its listings, social visibility and changes that will maximize your website's potential in the Google search engine. Any detected issues will be recorded, as well as any potential optimization opportunities. Once all this info about your website is on hand, it will go through a final review to make sure that it's 100% accurate, and nothing has been left out or overlooked.

The SEO report is created and delivered
– All the research (that was collected and verified in the previous step) is used to create an attractive PDF report that outlines any fixes or recommendations for your website. These will be very actionable and you can either perform them yourself or let us handle them for you if you don't have the time or technical expertise. It will be delivered to you via email, so please make sure that you don't make any typos when putting it into the form below. At the point, it should be less than 48 hours (since your original request), but if there are any unexpected delays, we will let you know. Lastly, after receiving the report, you are most welcome to reach out to our team if you have any questions.
Thank you! We will get back to you shortly
Your Business Information
This entire process will only take a couple minutes and will stay fully confidential.
You need to select an item to continue
YOUR CONTACT INFORMATION
We need this information to deliver your report to the correct person.
Summary
| Discount : | |
| --- | --- |
| Total : | |