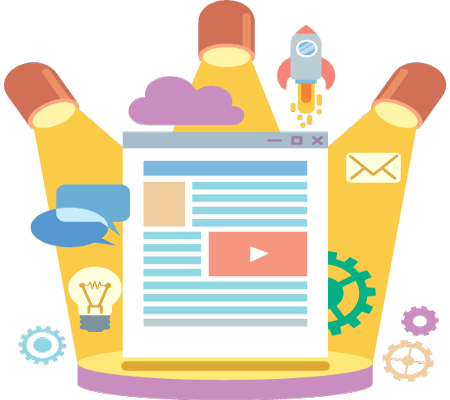 FREE VISIBILITY ASSESSMENT
A visibility assessment (and the report that is created for it) will help you understand what sort of impact your website is making on the internet. This knowledge serves two major purposes. Firstly, if your website isn't ranking for any keywords, has minimal monthly traffic and a number of other variables shown in the section below, action can be taken to change that in the near future. Secondly, if you are doing well with your online visibility metrics, then attention can still be given to help keep that positive momentum and gain even larger rewards as a result. Either way, understanding your current position is always the first step to improvement and this will help reveal that.
THIS EXTENSIVE WEBSITE VISIBILITY REPORT UNCOVERS:

Visitor Statistics
Knowing how many visitors your website receives on a monthly basis is important, as it reveals it's performance online and establishes a baseline for future growth. We will investigate your monthly website traffic (on average) in this visibility report and outline where it is coming from.

Conversion Goals
When new visitors land on your pages, do you have a clear and easy goal for them to complete? This might involve finding your contact details, submitting info or making a purchase. If they battle to find "the next step" fast, you will lose out. We will check your website's conversion optimization.

Domain Authority
Since trust is such an important metric for Google rankings, a website that has good domain authority will improve the overall ranking potential of all content. Although we won't be improving it (yet), this value will help you understand the strength of your site and we will tell you what it is.

Google Rankings
If you want to your website to bring in new leads on a regular basis, it's important that it appears in Google when people look for things that your business offers. While this can be achieved using Adwords, free traffic is always better, and we can research what keywords are bringing in new visitors.

Social Presence
Although most businesses have come to realize the potential that social networks provide to increase brand awareness and revenue, many don't know if their efforts are having any real impact. In this report, we will check your share volume, brand mentions, and overall social presence.

Local Citations
If you want to maximize your local website visibility, it is critical that it is listed in local directories, along with the name, address and phone number (N.A.P). It's important that this information is consistent across the board and fully up-to-date. Our team will check 29x local SA directories for you.
HOW WE PERFORM AN ONLINE VISIBILITY ASSESSMENT:

Your website visibility request is received
– Before we can start the site visibility assessment, we need to know about your website, as well as a few other things that help us during the research and customization process. This analysis is done by real people who are experienced in this type of work and is not a generic report that many automated services create with a couple clicks. We have made this process very easy for you, simply complete the form on this page and it will be instantly sent to our team. Hooray technology! Your request will be assigned to one of our staff, who will take the time to review all the information provided, as well as put together an outline of the research process, which will happen in the next step.

Your site footprint is fully assessed
– The expert who is handling your request will look at six major areas that affect the visibility of your website. The focus areas will be on the volume of monthly traffic, the keywords that your site ranks for in the Google search (organic visitors), missing or invalid business citations in popular South African directories, your overall domain strength, unmanaged conversion optimization strategies (that add resistance to actions) and your social presence. Once these aspects of your online footprint have been researched, we'll fully understand your strengths and weaknesses. This information will remain completely confidential and we will share it with you after the report has been created.

Your visibility analysis report is built
– During this phase, it is our goal to take fairly large amounts of technical information and distil it into actionable insight, that can be easily understood by anyone who uses our free visibility service. In addition, we take pride in representing this data in an attractive way, which will help prevent that feeling of being overwhelmed. We will send your shiny PDF report to the email address that was recorded during the submission process and encourage you to ask questions if you are confused about anything. We understand that websites and online marketing might be a fairly new subject for you and keeping that in mind, our team would love to help you, so just drop us a message!
Thank you! We will get back to you shortly
Your Business Information
This entire process will only take a couple minutes and will stay fully confidential.
You need to select an item to continue
YOUR CONTACT INFORMATION
We need this information to deliver your report to the correct person.
Summary
| Discount : | |
| --- | --- |
| Total : | |